Free apps sometimes have a bad reputation, but many are gems that are so good you won't believe they're free. We've scoured the App Store to find the very best, and sorted them into handy categories, which you can find on the following pages.
On this page you'll find the app of the week – our top new selection to try out, and check back every seven days where you'll find a new option to test. After that, it's the best entertainment apps (surely the best reason to own an iPad…) and a variety of categories on the following pages to tickle your fancy.
Free app of the week: Laugh & Learn Shapes & Colors Music Show for Baby
<
p class="bordeaux-image-check">
Laugh & Learn Shapes & Colors Music Show for Baby is a two-part game designed for children as young as six months old. 
In Level 1, your youngling – now armed with a worryingly expensive piece of technology – can tilt and tap the screen to make shapes appear and bounce around. But Level 2 ramps things up considerably.
"Let's put on a show," chirps the app as the five shapes wiggle and jig about on the screen, lurking above a colorful keyboard. And you know what's next: maddeningly jaunty earworms, augmented by a deliriously happy baby smacking the huge piano keys. 
Your slow descent into madness will be worth it for the smile on their little face.
The best free entertainment apps for iPad
Our favorite free iPad apps for having fun with your iPad, whether shopping, coloring, reading, watching TV or using Twitter.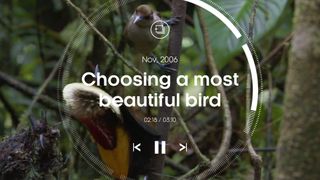 Attenborough Story of life
If you've any interest in wildlife films, Attenborough Story of Life is a must-have. It features over a thousand clips picked from Attenborough's decades-long journey through what he refers to as the "greatest story of all…how animals and plants came to fill our Earth".
The app is split into three sections. You're initially urged to delve into some featured collections, but can also explore by habitat or species, unearthing everything from big-toothed sharks to tiny penguins skittering about. Clips can be saved as favorites, or grouped into custom collections to later peruse or share with friends.
Some of the footage is noticeably low-res on an iPad – there's nothing here to concern your Blu-Rays, and that's a pity. Still, for instant access to such a wealth of amazing programming, this one's not to be missed.
Boldmatic
Boldomatic comes across like a social network for people who like making bold statements – in bold colors and with bold text. Imagine Twitter, but with a chunky font, eye-searing backgrounds on every post, and a user base that's perhaps a little too full of itself.
Which all sounds a bit unflattering, we're sure, but Boldomatic is actually rather fun. You can zip through the feed to find random thoughts, tiny nuggets of philosophy, daft jokes, and little bits of poetry.
Fashioning your own slice of creative genius is simple, too: just type out your words, select a background color (or a photo), and share it with the world.
Boldomatic also works as a means to create content for elsewhere. Your creations can be hurled at Facebook, Twitter, or Tumblr, to share them with the wider world (or Photos, if you want to keep them just between you and your iPad).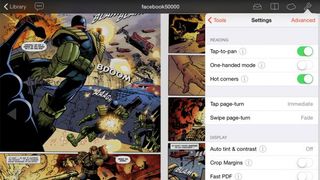 Chunky Comic Reader
The majority of comic-book readers on the App Store are tied to online stores, and any emphasis on quality in the actual apps isn't always placed on the reading part.
But with many more publishers embracing DRM-free downloads, having a really great reading app is essential if you're into digital comics. Chunky Comic Reader is the best available on iOS.
The interface is smart, simple and boasts plenty of settings, including the means to eradicate animation entirely when flipping pages.
Rendering is top-notch, even for relatively low-res fare. And you get the option of one- or two-up page views. For free, you can access web storage to upload comics. A single $3.99/£3.99/AU$5.99 pro upgrade adds support for shared Mac/PC/NAS drives.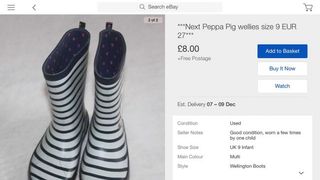 eBay
eBay provides access to a colossal online marketplace. Anyone can sell, and so you'll find huge brands mingling with individuals attempting to offload the entire contents of their basements and attics.
Something of a design playground, the iPad app is regularly reworked; but whatever eBay's designers come up with, a large touchscreen device proves to be the best way to search. You can quickly drill down into categories, and explore individual listings, swiping between photos.
If you need to keep track of things, the app offers automated notifications, and can flag searches, making it easy to see whenever new matching listings appear. And if you want to sell yourself, you can do that in-app, with eBay providing shortcuts to get your listing started (through barcode scanning or matching your item to publicly available information about it).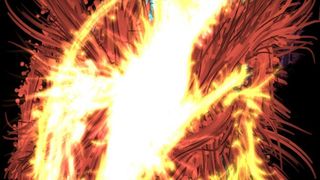 Fingerpaint Magic
The iPad and App Store combine to create an extremely strong ecosystem when it comes to art apps, but that's not terribly helpful if you don't have an artistic bone in your body.
Fortunately, there are apps like Fingerpaint Magic that enable a much wider range of people to create something visually stunning.
As you draw, feathers of color explode from your fingertip, bleeding into the background in a manner that feels like you're drawing with an alien material atop viscous liquid. You can adjust your brush and color – 'neon' from the former coming across like sketching with fire.
Artwork can be further enhanced using mirrors or background filters prior to export. The process is at once aesthetically pleasing, fun and relaxing.
A single $0.99/£0.99/AU$1.49 IAP unlocks a set of premium brushes, but Fingerpaint Magic's free incarnation has more than enough to unleash your inner artist, regardless of your skill level.
Instapaper
Instapaper acts as a time-shifting service for the web. You can send pages to it from any browser (PC, Mac or mobile), whereupon Instapaper strips away everything bar the content. When you open the app, it'll quickly sync your article collection. You can then read anything you've stored in a mobile-optimized layout that's entirely free from cruft.
On an iPhone, Instapaper is handy for commuters wanting to catch up on saved pages while belting along on a train. But on iPad, the larger display transforms Instapaper into a superb lean-back reading experience – your own personal periodical that's free from the gimmickry and iffy curation found in glossier fare, and that's instead all about the content.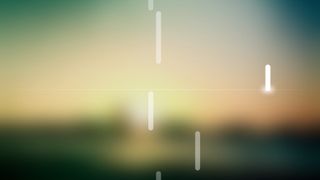 Melodist
Part meditative relaxation tool, part sleep aid, Melodist is all about creating melodies from imagery. All you have to do is load something from your Camera Roll, and the app does the rest.
On analyzing your photo or screen grab for changes in hues, saturation and brightness, a music loop is generated. You can adjust the playback speed, instrument and visual effect (which starts off as a lazily scrolling piano roll), along with setting a timer.
Although occasionally discordant, the app mostly creates very pleasing sounds. And while it's perhaps missing a trick in not displaying your photo as-is underneath the notes being played (your image is instead heavily blurred as a background), you can export each tune as audio or a video that shows the picture alongside the animation.
These free exports are a pretty generous gesture by the developer; if you want to return the favor, there's affordable IAP for extra sounds, animation and MIDI export.
Nebula
Among the various finger-painting apps for iPad, Nebula is one of the weirdest. You draw by dragging two fingers on the screen, which results in a set of neon lines atop the background. Twisting your fingers changes the nature of the futuristic ribbon you're creating, and subsequent taps and twists add to its length.
Using the app's settings, you can play with the thickness and density of the lines and switch between angled and wavy compositions. The results are very abstract whatever you do, but Nebula's a fun app for creating something visually different on your tablet.
There's no saving your work in the free version, though (beyond snapping a screen grab) – you'll need the $1.99/£1.99/AU$2.99 Tools IAP for that, which also adds symmetry functionality and high-resolution PDF export.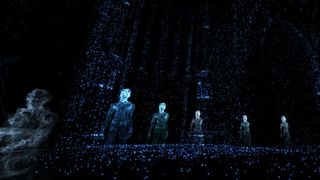 Notes on Blindness VR
After years of eyesight deterioration, John Hull became blind in 1983. Notes on Blindness VR has six chapters taken from his journal of the time. Each is set in a specific location, marrying John's narrative, binaural audio, and real-time 3D animation, to create an immersive experience of a 'world beyond sight'.
Although designed as a VR experience, this app remains effective when holding an iPad in front of your face, moving the screen about to scan your surroundings. The mood shifts throughout – there's wonder in a blind John's discovery of the beauty of rain, disconnection when he finds things 'disappear' from the world when sound stops, and a harrowing section on panic.
Towards the end, John mulls he's "starting to understand what it's like to be blind," and you may get a sense of what it's like, too, from the app, which ably showcases how to craft an engaging screen-based experience beyond the confines of television.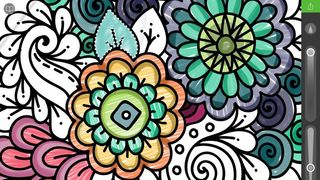 Pigment
Adult colouring books are all the rage, proponents claiming bringing colour to intricate abstract shapes helps reduce stress – at least until you realise you've got pen on your shirt and ground oil pastels into the sofa.
You'd think the process of colouring would be ideal for iPad, but most relevant apps are awful, some even forcing tap-to-fill. That is to colouring what using a motorbike is to running a marathon – a big cheat. Pigment is an exception, marrying a love for colouring with serious digital smarts.
On selecting an illustration, there's a range of palettes and tools to explore. You can use pencils and markers, adjusting opacity and brush sizes, and work with subtle gradients. Colouring can be 'freestyle', or you can tap to select an area and ensure you don't go over the lines while furiously scribbling. With a finger, Pigment works well, but it's better with a stylus; with an iPad Pro and a Pencil, you'll lob your real books in the bin.
The one niggle: printing and accessing the larger library requires a subscription in-app purchase. It's a pity there's no one-off payment for individual books, but you do get plenty of free illustrations, and so it's hard to grumble.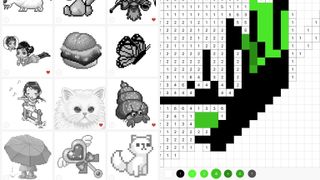 Sandbox
Sandbox offers an interesting take on coloring apps. Instead of virtual paper and pens (as per the excellent Pigment), Sandbox gives you a quirky combination of painting by numbers and old-school pixel art.
Select an image and it appears in grayscale. A tap zooms you in to a grid of numbers. Select a palette color and tap relevant grid squares to start coloring things in. Tap the wrong squares and your colors remain – but the numbers stick around in zoomed view, reminding you of your 'error'.
Because you have to tap every single square, Sandbox might for some feel tedious. But there's a meditative quality to proceedings, and there are plenty of images to color for free. A drag-to-color brush wouldn't go amiss though.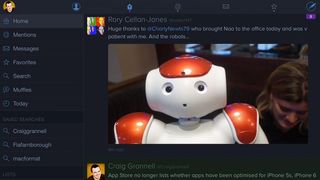 Twitterrific
The official Twitter client may get the social network's new toys first, but Twitterrific is a better bet for the more discerning Twitter user. It has a beautifully designed interface that's a delight to use, helpfully merging mentions and messages into a unified timeline, saving you mucking about switching tabs.
Customization options give you the means to adjust the app's visual appearance (and the app can optionally automatically switch to a dark theme at night), and powerful mute and muffle features block users and hashtags you want no part of.
Pay $4.99/£4.99/AU$7.99 and the app adds notifications, Apple Watch support, and translation support, along with removing ads.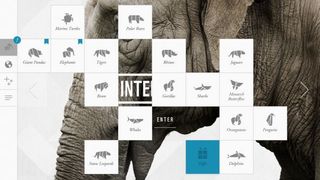 WWF Together
With a noodly soundtrack playing in the background, WWF Together invites you to spin a papercraft world and tap points of interest to learn more about endangered species. 16 creatures get fuller treatment – a navigable presentation of sorts that hangs on a key characteristic, such as a panda's charisma, or an elephant's intelligence.
These sections are arranged as a three-by-three grid, each screen of which gives you something different, be it statistics, gorgeous photography, or a 'facetime' movie that gives you a chance to get up close and personal.
Apps that mix charity and education can often come across as dry and worthy, but WWF Together is neither. It's informative but charming, and emotive but fun.
Rather neatly, stories can be shared by email, and this screen further rewards you with origami instructions to make your own paper animal; once constructed, it can sit on the desk next to all your technology, reminding you of the more fragile things that exist in our world.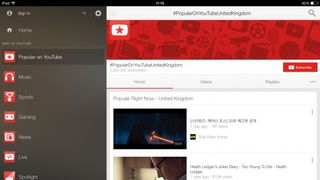 YouTube
YouTube is the best way to watch YouTube videos on your iPad. On the dynamic Home tab, you can quickly get at interesting stuff. It includes channels you subscribe to, and videos you didn't yet finish watching; but also, it makes recommendations based on your viewing habits. The more you watch, the better they get.
On selecting something to watch, the video itself sits at the top-left of the screen, allowing you to scroll through comments other viewers have left, and peruse an up-next feed. There's also a full-screen view for a more immersive experience.
Fittingly, for a service seemingly attempting to usurp traditional television, the YouTube app also provides access to content you've bought on Google Play. And with AirPlay and Chromecast support, getting what you're watching to an actual telly is a cinch, too.
For a mix of free and paid apps, check out our amazing Best iPad apps chart. If you're more into a smaller form-factor or have your eye on the iPhone X check out our list of the best free iPhone apps.
Haven't bought an iPad yet and not sure which is best? We've got them listed on our best iPad ranking – or you can check out the best tablets list to see the full range available now.
Are you a professional? Then our pick of the 10 best business apps should have something for you.
social experiment by Livio Acerbo #greengroundit #techradar http://www.techradar.com/news/best-free-ipad-apps